MMG Weekly | 3.14.2022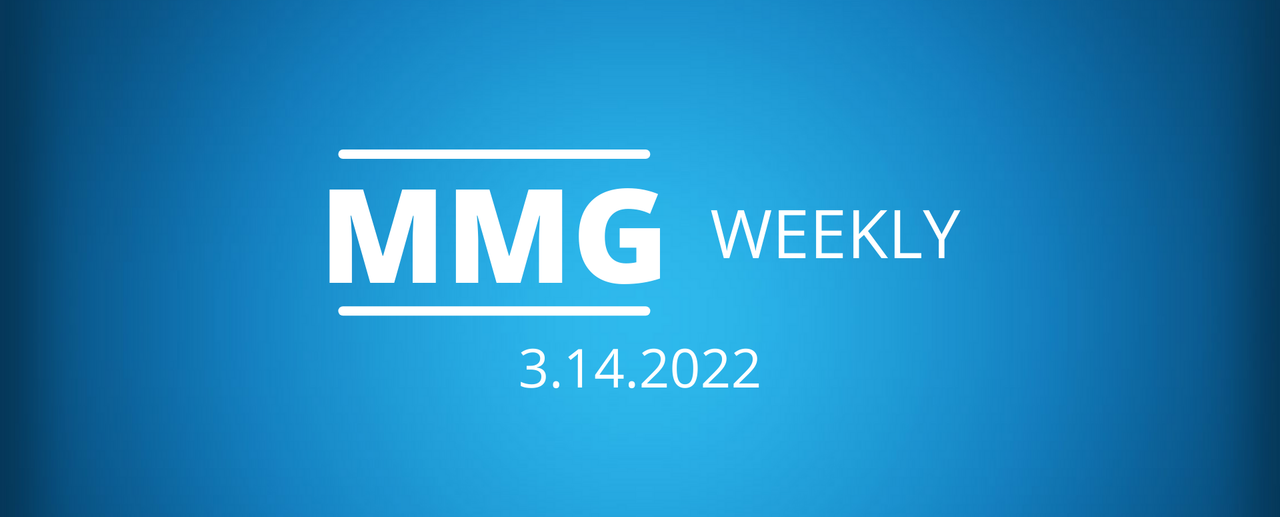 Posted by John Higgins at Mar. 14, 2022
A Look Into the Markets
Interest rates ticked up this week, despite the ongoing and uncertain Russia/Ukraine war. Let's break down what happened this week as we prepare for an important Fed meeting next week.
This is probably a good week to remind everyone that inflation is an economic killer. When inflation fears rise both stocks and bonds perform poorly with rates rising.
On Tuesday, President Biden sanctioned Russian energy including coal, natural gas, and oil. On the latter, this measure caused oil to touch nearly $130 a barrel. This increase has led to gas at the pumps hitting a historic high of $4.25. Oil and gas at these levels are highly inflationary in the absence of a material and sustained decline.
If this was not enough, commodity prices are soaring in response to the uncertainty. Wheat, lumber, copper, nickel...you name it and it's trading sharply higher, leading to higher costs on goods through the supply chain and down to the customer.
An important metric to track is the 10-year break-even rate, which essentially is what the US bond market expects inflation to average over the next 10 years. That number has climbed sharply over the past week and is the main reason why the 10-yr note yield and mortgage rates increased this week.
How do we lower and fight inflation? The Fed's mandate is to "maintain price stability "or inflation, so the financial markets will look to what they say at next week's Fed meeting.
The Federal Reserve is in a tough spot.
The Fed Chair recently said they are going to hike rates several times this year and more next year. It sounded like a reasonable plan a few months ago, but our economy has since been punched in the mouth with Omicron, continued supply chain issues, labor shortages, and fast declining consumer sentiment.
Moreover, and most importantly, a Fed rate hike is intended to draw money out of the economy to restore the balance between supply and demand. Right now, the sharp rise in oil is accomplishing the same goal as Americans continue to spend more money on gas to fill their car and heat their homes. This added cost to consumers is already draining savings, lowering sentiment, and coming at the expense of other purchases.
Oh, wait...now factor in the Ukraine/Russia war. This has elevated prices further. Wheat is a major product supplied by Russia and Ukraine...those prices are soaring and may stay quite elevated for some time, thereby slowing consumer spending on other items.
Consumer spending makes up two-thirds of our economic growth or GDP. If energy, food, and commodity prices remain elevated, we should expect GDP to stall.
As you can see, consumer demand is already fragile and slow. Fed Rate hikes will only slow the economy further.
Lastly, look at the 2/10 year note yield spread. It is narrowing every day and down to the smallest margin since 2018 which could signal an economic slowdown. Back at that time the Fed hiked rates too much and ended up cutting rates in 2019.
Here we are in 2022, and the Fed "says" they are going to hike rates several times with a similar-looking 2-year vs.10 yield spread as 2018. Time will tell if, how much, and when they can hike.
Bottom line:
Fed Rate hikes have no direct impact on mortgage rates. So, when the Fed hikes rates next week, it will not have a .25% hike to Mortgage rates. If you, a family member, or a friend is considering a mortgage, now is a great time as rates remain just beneath the 2022 peaks.
Looking Ahead:
Next week it is all about the Fed. A .25% rate hike is widely expected. What they say about future reinvestments into mortgage-backed securities and plan to reduce their balance sheet could create a sharp market reaction. The other elephant in the room - the Ukraine/Russia war lingers and unless resolved will make things tougher for the Fed to move forward with their hawkish plan of rate hikes and balance sheet reduction.
---
Mortgage Market Guide Candlestick Chart
Mortgage-backed security (MBS) prices are what determine home loan rates. The chart below is a one-year view of the Fannie Mae 30- year 3.0% coupon, where currently closed loans are being packaged. As prices go higher, rates move lower, and vice versa.
MBS prices are trying to hold above par or $100. If prices remain above this floor, rates will remain at or near current levels. However, if prices fall beneath $100, despite all the uncertainty in Ukraine, home loan rates will tick higher.
Note, the wild price swings over the past few days that highlight how much rates have moved up and down this week alone.
Chart: Fannie Mae 30-Year 3.0% Coupon (Friday, March 11, 2022)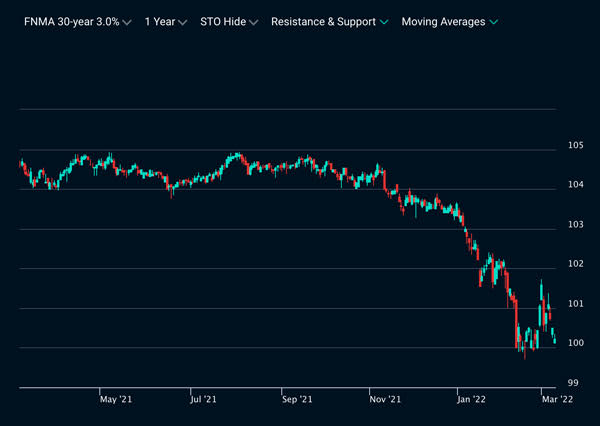 Economic Calendar for the Week of February 28 - March 3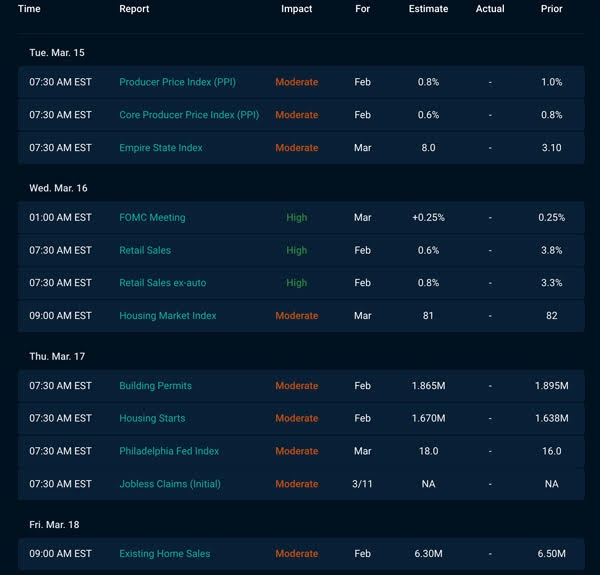 John Higgins
NMLS #136061
---
The material contained in this newsletter has been prepared by an independent third-party provider. The content is provided for use by real estate, financial services and other professionals only and is not intended for consumer distribution. The material provided is for informational and educational purposes only and should not be construed as investment and/or mortgage advice. Although the material is deemed to be accurate and reliable, there is no guarantee it is without errors.
As your mortgage professional, I am sending you the MMG WEEKLY because I am committed to keeping you updated on the economic events that impact interest rates and how they may affect you.