MMG Weekly | 11.28.2022

Posted by John Higgins at Nov. 28, 2022
A Look Into the Markets
A little history about the Thanksgiving Holiday:
Sarah Joseph Hale campaigned for a national Thanksgiving in the United States during the 19th century, eventually winning President Abraham Lincoln's support in 1863. He and subsequent presidents proclaimed a National Day of Thanksgiving annually for the last Thursday in November. In 1870, Congress passed legislation making Thanksgiving (along with Christmas Day, New Year's Day, and Independence Day) a national holiday. On December 26, 1941, President Roosevelt issued a proclamation designating the fourth Thursday in November (which is not always the last Thursday) as Thanksgiving Day.
And now, a look into the markets...
y elevate the chance of a recession.
Be mindful that as the Fed talks about higher rates, they are talking about their overnight Fed Funds Rates. The only way long-term rates like mortgages go higher, is if the economy can absorb the rate hikes.
It's clear that long-term rates are having a tough time believing the economy can absorb the higher rates as the 10-yr Note is yielding 3.79% and the 2-yr Note is yielding 4.53%, representing the widest inversion in over 40 years. This suggests the end of the rate hiking cycle is coming near and that long-term rates have peaked.
Bottom Line:
Home loan rates have stabilized a bit. With more inventory coming to market and many sellers eager to make deals, now could be a great time to consider taking advantage of the opportunities in housing.
Looking Ahead:
Next week there are a bunch of continued "Fed speak" but the main event is the November Jobs Report, and the Fed's favorite inflation gauge, the Core PCE, reported next Friday. If that report shows weakness, it will further confirm the smaller Fed rate hike in December. If the number comes in strong, it could very well embolden the Fed to talk tough while elevating uncertainty around a potential .75% hike again.
---
Mortgage Market Guide Candlestick Chart
Mortgage-backed security (MBS) prices determine home loan rates. The chart below is a one-year view of the Fannie Mae 30-year 5.5% coupon, where currently closed loans are being packaged. As prices go higher, rates move lower and vice versa.
You can see a lot of Green Candles which tell us prices are higher from where they opened the day, meaning rates are lower from where they opened the day. For rates to improve further, we need to see MBS climb above $101, which will serve as a ceiling of resistance.
Chart: Fannie Mae Mortgage Bond (Friday Nov 25, 2022)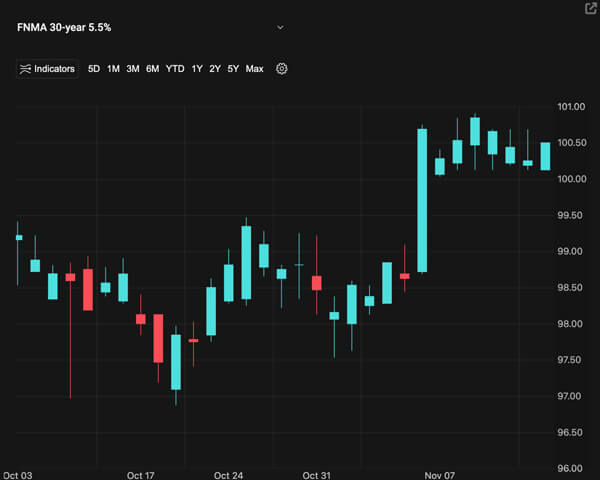 Economic Calendar for the Week of November 28 - December 2
John Higgins
NMLS #136061
---
The material contained in this newsletter has been prepared by an independent third-party provider. The content is provided for use by real estate, financial services and other professionals only and is not intended for consumer distribution. The material provided is for informational and educational purposes only and should not be construed as investment and/or mortgage advice. Although the material is deemed to be accurate and reliable, there is no guarantee it is without errors.
As your mortgage professional, I am sending you the MMG WEEKLY because I am committed to keeping you updated on the economic events that impact interest rates and how they may affect you.