MMG Weekly | 5.16.2022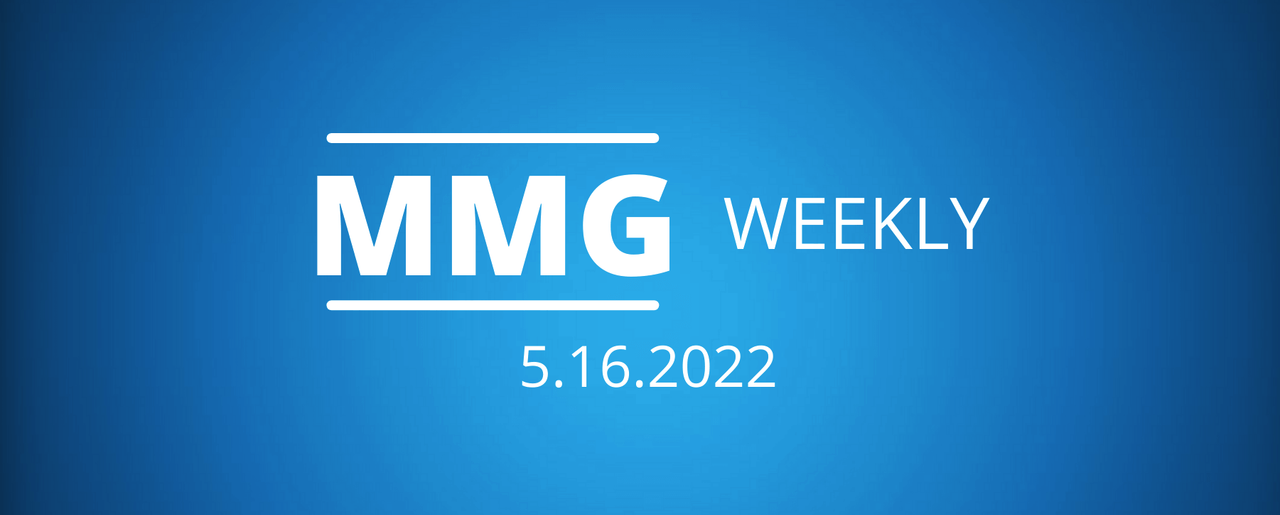 Posted by John Higgins at May. 16, 2022
A Look Into the Markets
This past week, home loan rates bounced around in a volatile fashion in response to more of the same...Fed speaks, inflation readings, and uncertainty. Let's walk through what happened and discuss what to look for in the week ahead.
"Although the task is difficult, it is not insurmountable. We have the tools to return balance to the economy and restore price stability, and we are committed to using them," New York Fed President, John Williams.
One week after the first .50% rate hike in 22 years, there were many Fed officials out using soothing rhetoric in an attempt to reassure financial markets they will be able to lower inflation while maintaining economic growth. Fed rate hikes and balance sheet reduction are intended to help slow consumer demand and there is now a growing fear the Fed will "overcook" the rate hikes and slow the US economy into a recession.
Stocks are sharply lower in 2022 and one of the main drivers is fear of a sustained economic slowdown. If the economy slows down, consumer demand will slow and that would likely lead to lower long-term rates, like mortgages. Bond yields or rates may already be giving us a sense that long-term rates may be close to peaking. The 10-yr Note backed well off its Monday high of 3.20% to reach 2.82% by midweek.
Inflation Has Not Yet Peaked
The April Consumer Price Index (CPI) was reported on Wednesday, and it was a bad surprise. The headline CPI, which includes food and energy prices, came in at a scorching 8.1% year over year. This, despite seeing an energy pullback in April. Energy prices have since moved higher, with diesel hitting all-time highs, so we should expect May's headline CPI print to remain higher than we would like.
The big disappointment was the higher-than-expected Core CPI, which removes energy and food. This month-over-month reading came in at a blistering 0.6% to bring the year-over-year reading to 6.2%, more than three times hotter than the Fed's target of 2% over the longer term.
"There are things we can do and we can address. That starts with the Federal Reserve, which plays a primary role in fighting inflation" President Biden.
President Biden reaffirmed the Fed's mandate of maintaining price stability or inflation. The challenge for the Fed? The Fed tightens monetary conditions and slows down demand by hiking rates. These rate hikes will not do much, if anything, to help lower energy and food costs. With energy being a component in many goods and services, we should expect headline inflation to remain stubbornly high for some time.
A Long-Term Trend Remains Our Friend
For those considering a home purchase and worrying about rising rates, there is a positive trend to consider.
Over the last 40 years, every time the Fed hiked rates the 10-yr Note yield never reached the peak from the previous hiking cycle. The 10-yr Note hit 3.20% this past Monday and the previous peak was 3.25% - the last time the Fed hiked rates in 2018. Could we have hit a rate peak this week? Time will tell.
Bottom line:
Home loan rates remain on a trend higher. Uncertainty and volatility around inflation, the Fed, and economic growth will continue to push rates and stocks around. If you are considering a purchase transaction, now is a great time to lock.
Looking Ahead:
Next week's economic calendar is a bit on the light side. But a parade of Fed speakers as we march towards the June Fed Meeting will keep the financial markets on edge. The next big thing to watch will be the balance sheet reduction coming in June. The Fed has only shrunk the balance sheet by a small amount and that was during better economic conditions with very low inflation. This will bring more uncertainty and volatility still - stay tuned.
---
Mortgage Market Guide Candlestick Chart
Mortgage-backed security (MBS) prices are what determine home loan rates. The chart below is a five-year view of the Fannie Mae 30- 4.00% coupon, where currently closed loans are being packaged. As prices go higher, rates move lower and vice versa.
You can see on the right side of the chart, that MBS fell beneath support at price lows last seen in 2018, thereby making a fresh 11-year price low.
With the 10-yr Note pulling back from 2018 highs, MBS improving from the May lows, and the aforementioned long-term 10yr Note trend in place, we may very well be nearing the peak in rates.
Chart: Fannie Mae 4.0% Mortgage Bond (Friday May 13, 2022)
Economic Calendar for the Week of May 16 - May 20

John Higgins
NMLS #136061
---
The material contained in this newsletter has been prepared by an independent third-party provider. The content is provided for use by real estate, financial services and other professionals only and is not intended for consumer distribution. The material provided is for informational and educational purposes only and should not be construed as investment and/or mortgage advice. Although the material is deemed to be accurate and reliable, there is no guarantee it is without errors.
As your mortgage professional, I am sending you the MMG WEEKLY because I am committed to keeping you updated on the economic events that impact interest rates and how they may affect you.